Allergy symptoms can range from mildly annoying to severe. TrustCare offers allergy testing for those who suffer from environmental/seasonal and food allergies.
Allergies come in many forms, but the most common are particles you breathe in the air and through the foods you eat. If you're suffering from any of the following symptoms, an allergy test can help determine the cause. Once the source is identified, treatment can considerably alleviate your symptoms.
Common Environmental/Seasonal Allergy Symptoms
Itchy eyes/nose/throat
Nasal congestion
Runny nose
Watery eyes
Chest congestion
Cough/wheezing
Itchy skin/Eczema
Chronic Sinusitis
Common Food Allergy Symptoms
Tingling or itching in the mouth or lips
Hives or rashes
Swelling of the lips, face, tongue, throat, or other parts of the body
Vomiting
Abdominal pain/cramping/diarrhea
Wheezing, nasal congestion or trouble breathing
Testing
Our medical professionals can determine your sensitivity to 36 regionally specific environmental inhalants and 25 specific food allergens using the latest technology. The Hitachi allergy analyzer uses blood testing to determine your sensitivities, a method that's effective, comfortable, and faster than the old "scratch" test. When the lab results are processed, we will review your allergy sensitivities and advise on the best treatment options to help alleviate your symptoms.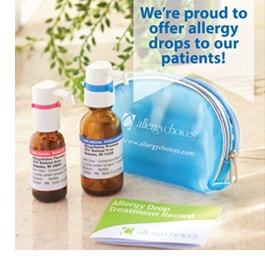 Treatment
An alternative to allergy shots, allergy drops are versatile for most allergy sufferers. From those with seasonal and environmental allergies to those with more complex allergies such as mold and food allergies and even associated allergic conditions like asthma, allergy drops are safe, effective, and affordable. Allergy drops are proven to:
Reduce time spent on doctor visits.
Be convenient for taking at home or on the go.
Have the potential to treat the widest range of allergic patients and conditions.
Reduce the need for allergy medications long-term.
Other allergy treatment options include:
Avoidance Education
Recommended Medications such as Antihistamines
---