Does Urgent Care Do X-Rays?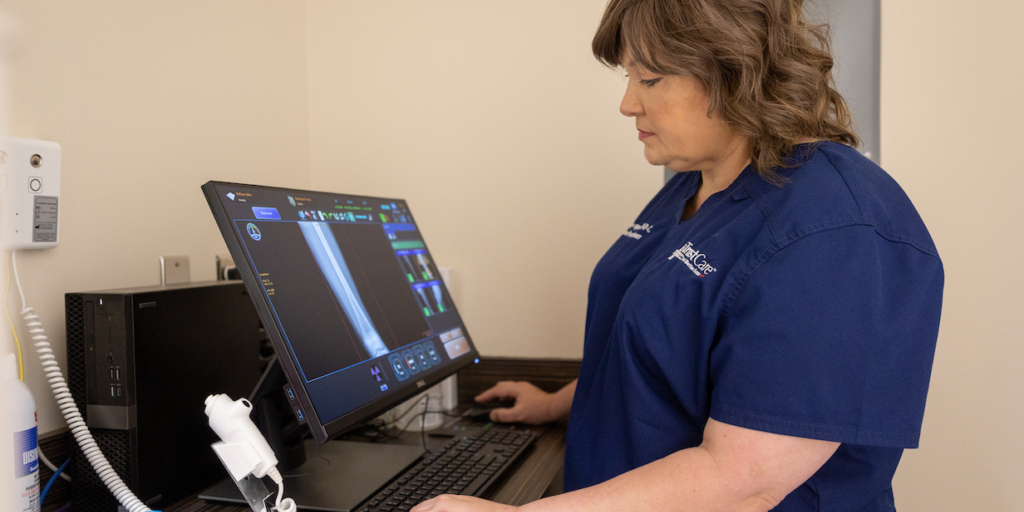 "Does urgent care do X-rays?" is one of the most common questions we hear, especially when a patient might have a bone fracture or needs an X-ray for a certain medical condition. The good news is that some urgent cares do offer digital X-rays, including TrustCare.
Benefits of Digital X-Rays
For most people, their primary concern about X-rays is radiation exposure. While traditional X-rays are still considered safe, digital X-rays produce up to 80% less radiation.
Digital X-rays offer many other benefits as well:
Instant access to the image – all X-rays taken at TrustCare are immediately transferred to our computer system, so you get answers quickly
Better image quality with the ability to zoom and adjust the image as needed
Can be stored indefinitely, unlike traditional film-based X-rays that can degrade over time
Eliminates darkrooms, chemicals, and human error that can occur during traditional X-ray processing
When to Get an X-Ray
Here are some examples of urgent care scenarios to help explain when you might need an X-ray.
You were playing your favorite sport and took a hard fall. Now you can't stand or put weight on your leg.
X-rays are absolutely essential for diagnosing broken bones. The images can also help your provider decide how to stabilize the fracture and if you need to be referred to an orthopaedic specialist for further treatment.
You twisted your ankle stepping off a curb. It still hurts and the swelling hasn't gone down.
A pulled muscle or sprain won't show on an X-ray. But if you have pain or swelling that doesn't go away, an X-ray can quickly reveal if you have a bone fracture, tissue inflammation, or fluid around a joint.
You have a terrible cough and can't breathe well.
A chest X-ray can be used to rule out pneumonia, especially if you have other signs such as fever, cough, and chest pain.
Your child says their stomach hurts and refuses to eat.
An X-ray can show worried parents the exact location of any intestinal blockages or swallowed items, such as coins, marbles, or Lego pieces.
What to Expect When You Get a Digital X-Ray
First, an urgent care staff member may ask you to remove jewelry, eyeglasses, or anything else that could interfere with the X-ray image. For female patients, be sure to tell us if you're pregnant (or think you might be).
Then, the staff member will position you between the digital capture device (known as an X-ray plate) and the X-ray machine. Depending on the body part being examined, you may be asked to sit or lie down on the plate or stand in front of it.
The entire procedure takes less than 15 minutes to complete, and the images are immediately available for viewing.
Reasons to Get an X-Ray at an Urgent Care vs. the ER
Now that you have an answer to the "Do urgent cares do X-rays?" question, here are a few reasons to visit TrustCare or another urgent care center instead of your local ER when your condition is not life-threatening:
Convenience – Emergency rooms are crowded and can keep you waiting for hours. Our clean, convenient walk-in clinics are easily accessible (we're open 7 days a week) with much shorter wait times – if you have to wait at all. You can get your X-ray and have your condition diagnosed and treated, all in one quick and easy visit.
Affordability – Getting an X-ray at a hospital or in the ER is much more expensive. When you choose an urgent care like TrustCare, you'll pay a lot less for the same high-quality service – all delivered by caring and compassionate providers who want to help you Feel Better Faster®.
Reasons to Get an X-ray from TrustCare
User-friendly – system accommodates all patients and allows for easy, precise patient positioning.
Quality and convenience – system that elevates the patient experience and promotes the best possible outcomes with hospital-quality diagnostic imaging for fast, accurate diagnosis and treatment.
Image Gently Software – ensures low dose imaging, especially for pediatric patients.
Visit a TrustCare Urgent Care Clinic Today
All TrustCare urgent care locations in Mississippi and Alabama offer state-of-the-art digital X-ray services. So save yourself a trip to the ER and visit a TrustCare urgent care clinic whenever you want to Feel Better Faster®.
All TrustCare urgent care locations are open seven days a week to serve you. Just walk in whenever you need us, and we'll have our digital X-ray machine waiting!