Healthy Eating During the Holidays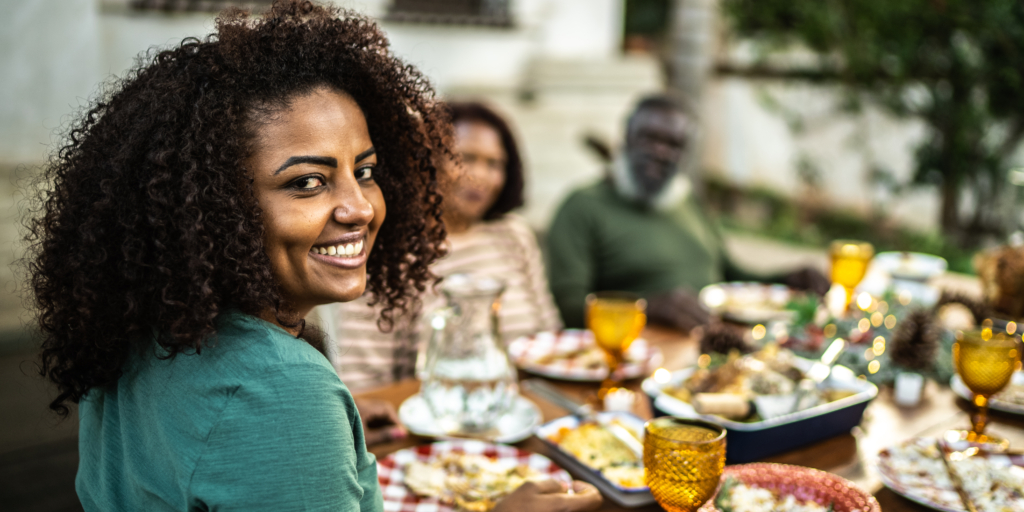 The holidays and healthy eating don't sound like they go together! But with pre-planning, dedication, and a bit of creativity, you can stay on track this holiday season.
All those holiday parties, all-you-can-eat meals, and sweet treats add up quickly – most Americans gain an average of 1-2 pounds over the holidays. That doesn't sound so bad, right? The problem is we usually don't lose our holiday weight when all the celebrations are over. Year after year, those extra pounds can lead to major medical problems.
Want to give a great gift to yourself? Follow these healthy eating tips to avoid holiday weight gain while still enjoying the magic of the season.
Focus on the People, Not the Food
The true meaning of the holidays isn't food – it's about spending time with your family, friends, and loved ones. Help take the focus off the food by moving all socializing, game-playing, and other activities away from the buffet or appetizer table. That way, you can enjoy being together without mindless eating. (Out of sight, out of mind!)
Choose Your Splurges and Savor Every Bite
Perhaps there's a certain dessert or beloved family dish that you look forward to every year. And that's okay! Take the time to really taste and enjoy that special treat when you eat it. Or scan the buffet and choose just a few holiday favorites to splurge on rather than eating foods you can have any time of year.
Contribute a Healthy Dish
Ensure you have at least one nutritious choice available at a holiday event by bringing a healthy dish to share. Asked to bring an appetizer? Bring a colorful tray of crunchy vegetables with low-fat ranch dip or a fresh fruit salad. (Bonus: if you fill up on veggies or fruit before the meal, you'll be less likely to overeat.)
Dabble in Dessert, But Do It Wisely
From candies to cookies to cakes, sweet treats are abundant during the holidays. You can try all the desserts, but only take a bite or two of each – you won't feel shortchanged or do too much damage calorie-wise. If you indulge in a slice of pie, eat the filling but skip the crust. Every little bit helps!
Never Arrive Hungry
Overeating or eating too fast can leave you with stomach pain, diarrhea, gastroenteritis, or other digestive issues. Eat small meals throughout the day to keep your metabolism going, so you don't feel like you're starving when you arrive at the event. The idea of skipping meals to "save calories" almost always backfires when hunger sets in.
Use the Plate Trick
Always use a small plate whenever possible to help with portion control. You can also try covering at least half the plate with fruits and vegetables and/or not allowing any of your foods to touch.
Leave Your Comfy Pants at Home
Even what you wear can help encourage healthy holiday eating. Loose-fitting clothes and elastic waistbands make it far too easy to overeat. Wear form-fitting garments instead, so you'll know when you're overdoing it.
Feel Better Faster® This Holiday Season
Sometimes, life doesn't go according to plan – especially during the holidays. TrustCare has convenient locations that are open 362 days a year, treating illnesses and injuries that require immediate care.
Our board-certified local physicians are dedicated to making sure you have a great experience from start to finish. Learn more about the services we offer and find a TrustCare location near you today.