How to Be a Healthy Traveler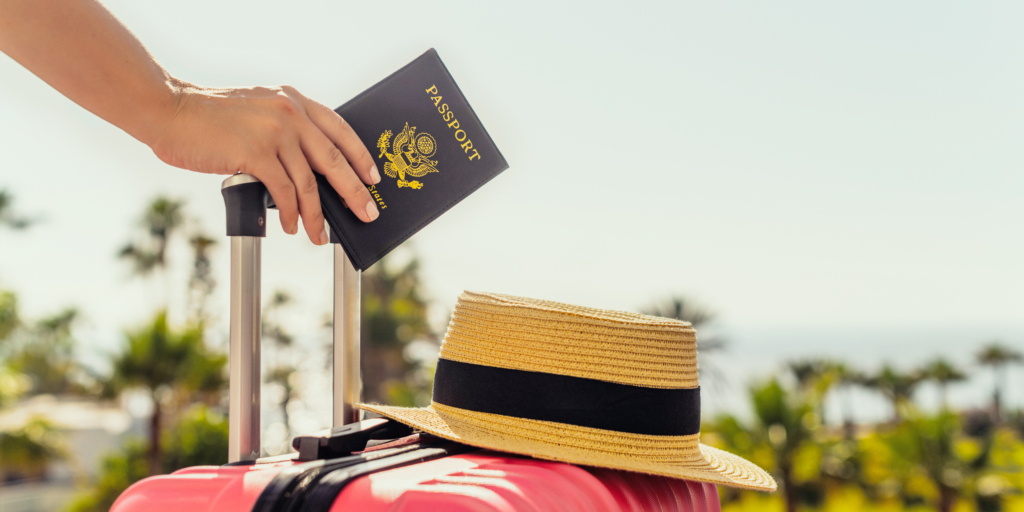 Bumper-to-bumper traffic, canceled flights, eating hurriedly on the go – staying healthy and managing your stress while traveling is no easy feat, especially these days. Recent events like the Southwest Airlines holiday meltdown and FAA system outage took a major toll on millions of travelers.
As COVID-19 restrictions lift, people are eagerly hitting the roads, rails, and skies despite these challenges. What can you do to be a healthy traveler and lower your travel stress? Quite a bit actually, but it does take some planning.
Follow these tips to stay as healthy and stress-free as possible on your next vacation.
Consider Your Schedule
It's tempting to book a trip based solely on low-cost airfare or some other type of pricing special. But in the name of stress reduction, be sure to consider your schedule first. If you maximize your time away and arrive home late Sunday night, what will your Monday workday be like? It may be wiser to fly home on Saturday and give yourself a buffer day to rest, unpack, and get organized.
Keep a Suitcase Packed
If you travel frequently (and have the space), keep extra toiletries and clothing in a suitcase that's always ready to go. This way, you won't be scrambling to pack the night before – especially if you also have to work late, make arrangements for your children or pets, or finish other tasks before you leave. Do you visit the same type of destination often? Create a master packing list that you can use time and time again.
Be Punctual on Travel Day
Nothing makes a trip more stressful than leaving late and missing your plane, bus, or train. Airlines generally recommend arriving at the airport no later than two hours before a domestic flight and three hours before an international flight. Be sure to give yourself plenty of time, so there's no need to rush or worry.
If You're Driving
Sitting in traffic on a jam-packed highway isn't a great way to start your vacation either. Prepare directions to your destination in advance, including alternate travel routes for unexpected traffic or construction. Avoid peak travel hours if you can (such as 5 PM Friday on a holiday weekend). If you choose to drive in the early morning or late at night, get plenty of rest first – drowsy driving is dangerous for everyone in your vehicle and others on the road.
When All Else Fails, Just Breathe
Sometimes things just don't go according to plan. Flights get delayed. Luggage gets lost. Highways get backed up. When you feel travel stress coming on, take a deep breath and use the 4-4-4-4 method – breathe in for four seconds, hold it for four seconds, exhale for four seconds, and hold your breath again for four seconds. Keep repeating until you feel calmer.
Savor Your Downtime
When travel challenges are beyond your control, take a moment to unplug your devices and enjoy the downtime. Read a book, listen to music, or simply close your eyes and relax. Disconnecting from the stress can help make any travel issues easier to handle.
Pack Healthy Snacks
Packing lots of healthy snacks is the key to avoiding not-so-healthy food choices as you travel. Eat snacks like nuts, fruit, and protein bars every few hours to help stave off hunger and keep your energy up. You can also bring oatmeal or soup cups on a plane with you – just ask your flight attendant for hot water to fill the cup.
Keep Yourself Hydrated
Bringing your own water bottle is a great way to guarantee that you stay hydrated throughout your journey. (If you're flying, be sure to leave the bottle empty until after you go through security.) Some airports, gyms, and other facilities offer filtered water dispensers for this purpose. You can also fill your bottle at water fountains, food counters, or ask a restaurant server to do it for you.
Don't Take a Vacation from Exercise
Exercise stimulates both your physical and mental health – and you truly can do it anywhere. Stuck at the airport? Take a walk through the terminal. Stuck in a seat? Try shoulder rolls, calf raises, or ankle rolls. Many hotels and resorts offer fitness centers. But even if you don't have access to one, you can do jumping jacks, push-ups, lunges, and more right in your room.
Seek Urgent Care When the Unexpected Happens
Clinics like TrustCare provide urgent care, primary care, and kids care, treating people of all ages with various medical needs, from sprains to strep throat, food poisoning to flu, the board-certified local physicians at TrustCare handle them all.
TrustCare clinics are open seven days a week, 362 days a year, with extended hours on weekdays and Sundays. Whether you call Mississippi or Alabama home or are just passing through while traveling, visit a TrustCare location near you today.