Take the Challenge: Learn CPR to Save a Life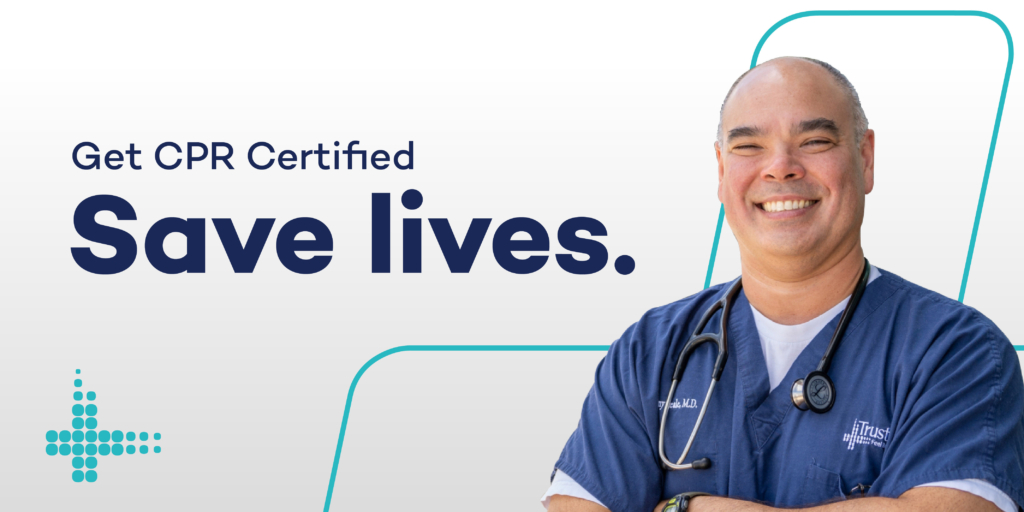 Most of us have seen television doctors valiantly save a patient's life by performing CPR (cardiopulmonary resuscitation) in dramatic fashion. Millions of Americans recently celebrated a real-life CPR rescue when Buffalo Bills football player Damar Hamlin collapsed on the field after his heart stopped mid-game.
More than 350,000 cardiac arrests occur outside of a hospital every year. Nearly 75% of them happen at home or another residence, where we must rely on family members, friends, or bystanders to keep us alive until medical help arrives.
If performed immediately, CPR can double or triple your chance of survival from an out-of-hospital cardiac arrest. But according to the American Heart Association, only about 40% of people get the immediate help they need.
Damar Hamlin, the Buffalo Bills, and the American Heart Association are partnering this February (which is American Heart Month) to challenge everyone to learn CPR. Read on to find out what to do when someone suffers cardiac arrest and why it's so important to keep your own heart healthy.
You Must Act Calmly, But Quickly
Cardiac arrest is the sudden loss of all heart activity due to an irregular heart rhythm. The person's breathing stops, and they lose consciousness. Without immediate treatment, cardiac arrest can lead to death.
Stay as calm as possible and quickly follow these steps:
Check if the person is responsive or has a pulse.
If not, shout as loudly as you can for help.
If you are alone, call 911 right away (except when helping a child: see below).
Are others there? Instead of saying "Someone call 911," tell a specific person to make the call. Also ask them to look for an AED (defibrillator), which can be used to shock the heart back into normal rhythm.
Begin CPR immediately and continue until medical help arrives.
CPR Steps for Children and Adults
Children
For infants and children, airway obstruction is often the cause of cardiac arrest. Place your ear near the child's mouth and nose. Is there breath on your cheek, or is the child's chest moving? If the child is unconscious but you see or feel regular breathing, call 911 and wait for help. A breathing child does not need CPR.
If the child isn't breathing or is only gasping, call 911 after two minutes of CPR. Follow these steps for child and infant CPR.
Adults
If you see a teen or adult collapse or become unresponsive, hands-only CPR can save their life – watch a 60-second video from the American Heart Association here.
Call 911 immediately and then follow these steps for hands-on CPR or traditional CPR for adults.
"Stayin' Alive"
It's more than a famous disco song! The American Heart Association says that CPR should be performed at the same tempo as the Bee Gees song "Stayin' Alive" with at least 100 chest compressions per minute. Other songs that follow the same tempo include "What's Going On" by Marvin Gaye, "Dancing Queen" by ABBA, and "Crazy" by Gnarls Barkley.
Keep Your Heart Healthy
There are many things you can do to keep your heart healthy and hopefully avoid the need for CPR in your lifetime.
For starters, visit any TrustCare urgent care clinic for annual wellness exams, which include a complete review of your medical history, physical exam, and blood tests. You can also visit any of our primary care physicians for ongoing healthcare as needed.
At home, some of the best ways to protect your heart health include:
Eating a heart-healthy diet
Exercising regularly
Staying at or near your ideal weight
Controlling your cholesterol and blood pressure
Not smoking
Only consuming alcohol in moderation
Managing stress
Find a TrustCare Near You
Take advantage of this opportunity to save someone else's life by learning CPR and save your own life by making a commitment to your heart health. TrustCare is here to help you do both!
Our walk-in urgent care clinics are open 362 days a year and see thousands of patients every month. We also offer primary care, telehealth, pediatric primary care (TrustCare Kids), and occupational health services.
To learn more, find your nearest TrustCare and schedule an appointment today.