How to Have a Safe Holiday Get-Together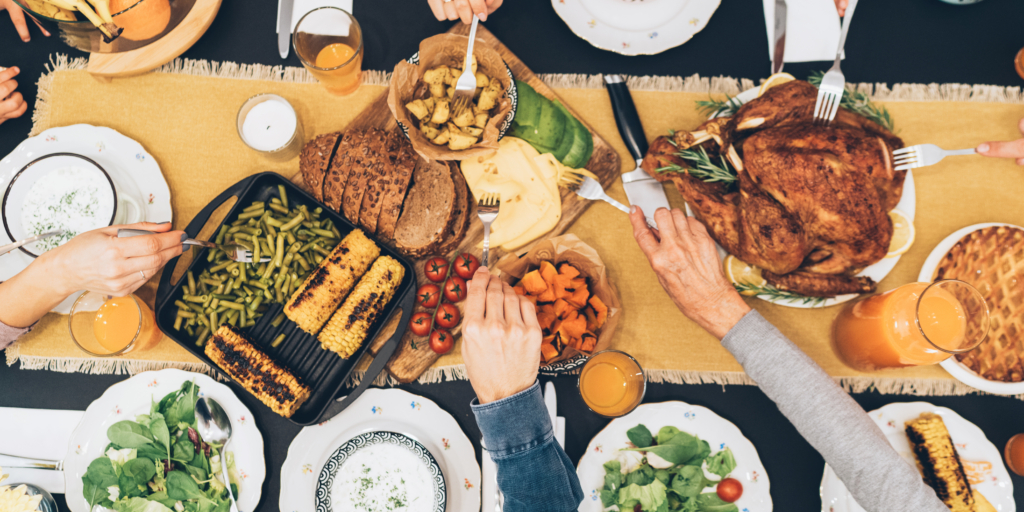 If you're planning to host or attend a holiday get-together with family and friends this season, you're in good company. A recent grocery store study shows that 94% of people plan to gather with the same amount of people – or more – than in 2021.
Getting together with family and friends continues to be the most popular way to celebrate the holidays, with Christmas (77%) and Thanksgiving (71%) at the top of the list. But how do you keep yourself and your loved ones safe with the flu, COVID-19, and other viruses running rampant?
Here are some health tips that can help you all enjoy the holiday season together.
Getting a Flu Shot for Prevention
It's not just the holiday season upon us – flu season has returned with a vengeance. The Centers for Disease Control and Prevention (CDC) says that everyone six months and older should get a flu vaccine every season, with rare exceptions. Flu activity usually peaks between December and February. So if you haven't gotten a flu vaccine already, now is the time.
The biggest danger of the flu during the holidays is how easily it spreads from person to person. The flu virus is spread mainly by respiratory droplets that we make when we cough, sneeze, or talk. These droplets can land in the mouths or noses of anyone nearby (usually within six feet or less). And of course, most holiday get-togethers revolve around close contact with our loved ones.
You could also have the flu already and not even know it. The flu virus can be detected in most infected people the day before any symptoms develop. People with the flu are most contagious in the first 3-4 days after their illness begins, when their symptoms could still be mild.
The best way to protect yourself and your family and friends in the coming weeks is to get a flu vaccine. If you are sick or have any symptoms, stay home and do not attend gatherings with others.
When to Get a COVID-19 Test After a Family Gathering
After two years of wearing masks at holiday get-togethers, many people are looking forward to a mask-free holiday season in 2022. However, the threat of COVID-19 still remains, especially if you haven't had any COVID-19 vaccines or boosters.
Numerous variants of the virus that causes COVID-19 continue to emerge across the globe. The latest variant, Omicron, spreads faster and more easily than earlier variants – making it a viable concern for any upcoming holiday get-togethers.
The CDC recommends COVID-19 testing for everyone who exhibits COVID-19 symptoms (such as fever, cough, shortness of breath, sore throat, loss of taste or smell, fatigue, and more). Anyone in close contact with an infected person should also get tested.
If you're vaccinated, wait 5-7 days after exposure to test. If you're not vaccinated, you should test immediately – if the test is negative but your symptoms continue, test again 5-7 days after exposure.
Most rapid COVID-19 tests provide results on the same day, so you can find out quickly if you need to isolate away from your loved ones.
Make Sure Your Kids Have a Safe Holiday, Too
The holiday season is a magical time for children, but injuries and accidents do happen. These reminders help keep kids safe during the hustle and bustle of holiday get-togethers:
Keep decorations out of reach of children, especially small, breakable ones that could cut or choke them
Also keep mistletoe, poinsettias, and holly berries out of reach of children, as they are toxic when ingested
Never leave children alone in a room with lighted candles, matches, or any other sources of flame or heat
Cook on the back burners when you can, and turn pot handles away from the front of the stove
Quickly clean up any leftover alcoholic beverages, especially if they're within reach
So, Are Holiday Gatherings Safe in 2022?
Nearly 70% of Americans are fully vaccinated against COVID-19, making this holiday season potentially the safest for holiday gatherings since the pandemic began. However, we can't count out the flu and other common illnesses this time of year.
By getting a seasonal flu vaccine, staying current on your COVID-19 vaccines and boosters, and watching out for potential hazards, you can help make holiday get-togethers safe for the people you love most.
Visit TrustCare for All Your Urgent Care Needs
From the flu to food poisoning, burns to broken bones, the providers at TrustCare are here to help you Feel Better Faster®. Our walk-in urgent care clinics are open 362 days a year with no appointment necessary. TrustCare makes it easy and convenient to get healthy for your upcoming holiday get-togethers – and stay healthy when things don't go according to plan. Find a TrustCare location near you today!