What's Involved in a Sports Physical?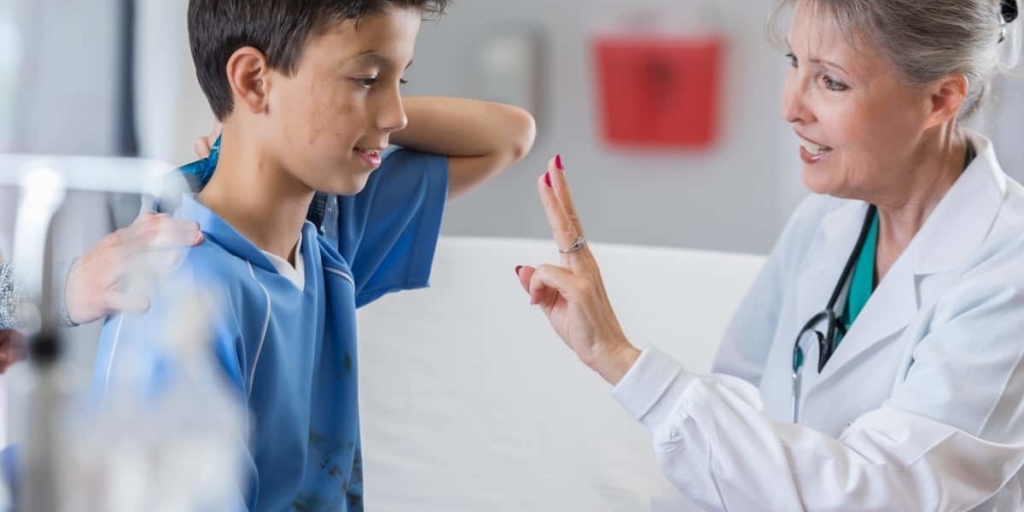 One of the highlights of the teenage years is the opportunity to play organized school sports and compete against teens at other schools. As kids get older, and the competition in sports becomes more intense and more involved, potential sports injuries can begin to be a concern. To make sure kids are able to compete safely, most high schools and sports organizations require or recommend a sports physical. The main purpose is to ensure that the child is healthy enough to play and identify any health issues that could pose a problem.
What is a Sports Physical?
Also known as a pre-participation physical exam (PPE), a sports physical is similar to the kind of annual physical performed by your family physician. Whereas a regular physical is meant to evaluate your overall health, a pre-participation physical is specifically designed to evaluate a person's health in terms of how well they can safely participate in sports. At this point, most states require a sports physical before a kid can participate, but it is highly recommended by doctors even if it isn't a strict requirement.
Though organized sports participation has declined in recent years (even before the COVID-19 pandemic disrupted the lives of students across the country), most estimates indicate that upwards of 30 million children and teens play at least one sport. Of all those active young people, over three million get a sports-related injury each year. When a kid gets injured, he or she often can't play the sport until the injury has healed, but it also can mean missing school or other activities.
While very physical sports like football and basketball are known for causing injuries, the truth is that any sport can potentially lead to an injury. A sports physical can't necessarily prevent those injuries from happening, but it can give the doctor, student, and parents valuable information about the potential risks of participating in a specific sport. For example, a physical might reveal a musculoskeletal problem that would make it especially dangerous to participate in a contact sport.
What is Involved in a Sports Physical?
Sports physicals can be performed by any qualified health care provider, although many people choose to go to their primary care provider. Schools themselves will sometimes offer physicals as well but the scope of the exam may be limited. In general though, a sports physical involves two elements: a medical history and a physical examination:
Medical History
The details of your child's health history will typically be obtained by filling out a form. After filling it in prior to the physical, the doctor will discuss anything that might be relevant to the sport your child wants to play. Here are some examples of topics that might show up on a medical history form:
family history of any serious illness
illnesses like asthma or epilepsy that a child may have struggled with earlier in life
heart problems
surgeries performed in the past
any medical conditions that required hospitalization
allergies (certain medications, foods, insects, etc.)
any past injuries (broken bones, concussions, sprains, etc.)
problems experienced while exercising (lightheaded, dizzy, chest pain, etc.)
any current medications
Physical Examination
As noted above, the physical evaluation part of a sports physical is not unlike a regular annual checkup. The doctor is looking for any vitals that might be abnormal or concerning; irregular heartbeat or breathing problems, for instance, might indicate a potential risk of injury in certain kinds of physical activity. In many cases the identification of some health concern doesn't mean the child won't be able to play, but it might mean some treatment options or other methods to mitigate the problem and make it safer for the child to participate. You can expect to the doctor to check:
height and weight (and usually body mass index)
blood pressure
heart rate
vision
lungs
abdominal area
ears, nose, and throat
reflexes
strength, flexibility, and posture
any issues with hernia
Naturally some of the questions and topics will be different depending on gender, age, and the type of sport in question. The doctor may also ask teenagers about drug and alcohol use or even dietary supplements that might have an impact on performance and safety. At the end of the exam, assuming no further tests are needed, the doctor will sign the PPE form, and the child will be cleared to play.
Why Get a Sports Physical?
When a teen is really excited to join a sports team with friends and classmates, the obligation to get a sports physical can feel like an annoying burden. But the medical history and physical examination aren't just meaningless boxes to check off—it is the simplest and easiest way to ensure that the young person will be able to participate safely. In addition to being healthy for the current sports season, the physical is also an important part of ensuring future participation in sports.
A doctor is an excellent resource to have access to, and that goes beyond the typical medical concerns a doctor might be on the lookout for. Doctors who perform sports physicals also often have excellent tips and advice on training and how to avoid injuries altogether. For instance, the doctor may be able to recommend stretching or conditioning activities that better prepare the body for high intensity physical competition. These kinds of activities can improve performance as well as make injuries much less likely.
What If a Problem is Discovered?
For a kid who has his or her heart set on playing a sport, it could be devastating to get a physical and find out that their eligibility to play is in question. Though around 10% of students have health problems come up during the physical, only 1-2% are actually ruled unable to participate. Most of the time a problem just means that more tests are needed or that playing the sport will require some additional assistance.
Sports Physicals at TrustCare
Parents and students usually have multiple options to choose from when it comes to where to get the sports physical. The truth is, though, that convenience and expediency are often the most important factors for busy families that have many activities and responsibilities in the mix. It's the empathy for needing quick and easy options that makes TrustCare an ideal choice for your teen's sports physical. With multiple locations and convenient hours, you can stop by an urgent care center (or the TrustCare Kids Clinic) and easily get your child checked out.